Honda is a company that wants everybody to feel the thrill of motorcycling. It will expand the miniature MOTO street bike range by adding 2022 Honda Navi. A part scooter Part street bike, bicycle for streets The Honda Navi is designed for people who need easy-to-use transport that doesn't cost a fortune.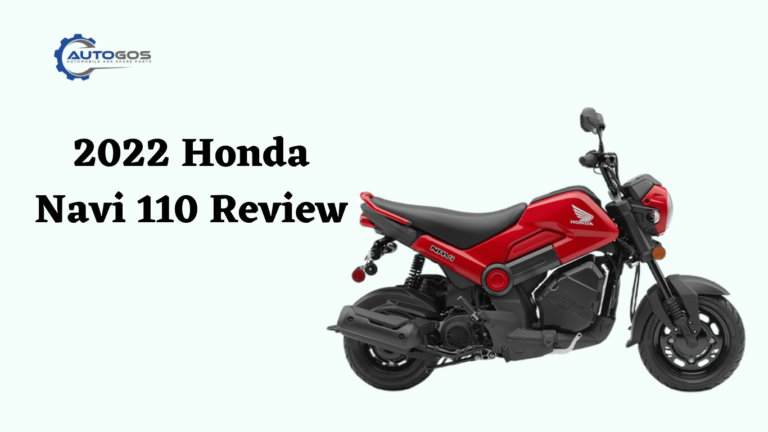 Price and Specifecations of 2022 Honda Navi:
| | |
| --- | --- |
| Price (MSRP) | $1,807 |
| Engine | 109.2 cc, air-and-fan-cooled, overhead-cam, two-valve single |
| Transmission, final drive | CVT and automatic centrifugal dry clutch, belt |
| Frame | Steel-tube |
| Front suspension | 26.8 mm inverted fork; 3.9 inches of travel |
| Rear suspension | Single shock; 2.8 inches of travel |
| Front brake | Single mechanical 130 mm drum |
| Rear brake | Single mechanical 130 mm drum |
| Rake, trail | 27.5 degrees, 3.2 inches |
| Wheelbase | 50.6 inches |
| | |
| --- | --- |
| Seat height | 30.1 inches |
| Fuel capacity | 0.9 gallons |
| Tires | 90/90-12 front, 90/100-10 rear |
| Claimed weight | 236 pounds |
| Available | January 2022 |
| Warranty | 12 months |
| | |
Read More:
https://autogos.com/2021-aprilia-sxr-125-first-ride-review-fun-to-ride-maxi-scooter/
2022 Honda Navi Design
For styling inspiration, There is nothing better than Honda's own Grom, the most popular minimoto on the market and one of the most popular models in the Powersports market.
As a result, the Navi boasts a sporty motorcycle look and feel, with the rider's legs straddling the fuel tank and their feet placed on side-mounted pegs, rather than the scooter-style step-through/floorboard design. Rear brakes are activated through a foot lever to the right, unlike a left-hand lever, like scooters.
The engine is behind the seat, much like a scooter, opening the space in front of the seat to create a handy locker-able storage compartment ideal for keeping books, jackets, or an empty water bottle. The frame, suspension, wheels, and exhausts are black.
The black is offset with strikingly colored side panels, which have shapes that are reminiscent of Honda's famous CRF series of dirt motorcycles. The headlight is prominent and has the form of a hexagon.
2022 Honda Navi Engine & Drivetrain
Although the appearance is all motorcycle, the engine is a scooter, meaning that it's mounted rearwards and doesn't require any shifting. The smooth, quiet engine originates from the well-known Activa (a very loved scooter-loving Asia).
It boasts Honda's highly efficient eSP friction-reducing technology, which delivers excellent fuel efficiency and an amazing EPA fuel efficiency rating of 110.3 mpg.
This is a low cost of operation, especially when considering Honda's legendary durability and reliability. These qualities of security and ease of use were top priorities when designing the Navi. The engine is a fan-cooled 109.2cc single-cylinder, two-valve overhead-camshaft four-stroke that is inclined forward at an angle of 80o.
The stroke and bore are 55.0 millimeters and 55.6 mm, respectively, as is the compression ratio of 9.5:1. The Navi offers plenty of usable power to accelerate from stoppages or overtake traffic quickly. It's prepared to give you many miles stress-free journey.
Type: Single-cylinder 4-stroke canted 80 degrees forward
Displacement: 109cc
Bore x stroke 55.0 x 55.6mm
The ratio of compression: 9.5:1
Valvetrain: SOHC; 2-valve
Fueling Carburetor 16mm
Start With Electric (kickback)
Transmission: CVT fully automatic
The final drive Belt
Induction occurs through the carburetor's 16mm diameter, and the power is transferred through Honda's reliable, effective V-Matic, easy-to-maintain automatic transmission to an efficient belt drive.
Without a clutch lever or shift lever, the operation is easy and simple, and riders can concentrate on getting around the neighborhood while having fun.
2022 Honda Navi Chassis & Suspension
Its Navi frame design uses an engine to act as a stress part and is designed to give you a great handling experience and stability due to its rather large 50.6 inches wheelbase. The ride comfort is outstanding.
A robust 26.8-millimeter telescopic inverted fork is combined with a rear-mounted side-mounted shock absorber that provides an easy, comfortable solid ride. The pressed-steel wheels measure 12″ and 10″, in front and rear, respectively, allowing them to deal with road imperfections easily. The stopping and slowing functions are carried out with 130 mm drum front and rear brakes. A parking brake is operated via a lever located on the left side of the handlebar.
The seat's height is comfortable, 30.1 inches. The seat narrows towards the rear, making it simple for most people to keep their feet on the ground when they come to stops. A grab rail located at the rear of the seat offers an extra-secure grip for the rider.
The fuel capacity is .9 Gallons, a surprising range due to the Navi's fuel-saving nature. Once fully fueled and ready for a ride, Navi weighs only 236 pounds, making it easy to navigate through traffic, pull into tight parking spaces, or put on an RV's bumper rack.
STYLE of 2022 Honda Navi
A BRAND NEW LOOK It's impossible to miss a Honda Navi because we've created a new design that's unlike anything else. It's quite a distance from other scooters, and we're begging you to add your style. Urban and hip, it's sure to be noticed everywhere you go.
FOUR AMAZING COLORS The Navi is available in four amazing shades so that you can take your choice: Red, Grasshopper Green, Nut Brown, and Ranger Green.
Performance of 2022 Honda Navi
The 109CC FOUR-STROKE ENGINE, One of the most appealing features of the newly launched Navi, is its reliable Honda engine. It's air-cooled to simplify things, offers remarkable fuel efficiency, and produces many horsepowers. One-cylinder design, overhead-cam It's easy to maintain and highly durable.
HET–HONDA ECOTECH Honda's Navi engine provides the comfort and performance that comes from a gas engine; however, with the convenience and power of our HET (Honda Eco Technology) style, the engine is ecologically conscious.
DIMENSIONS as well as CAPACITIES
Length of the wheel: 50.6 inches
Rake: 27.5 degrees
Trail 3.2 inches
Height of seat: 30.1 inches
Fuel capacity: 3.6 quarts
Estimate fuel consumption: 110 mpg
Curb weight: 236 pounds
COLORES of 2022 Honda Navi
Grasshopper Green
Nut Brown
Ranger Green
Red
Icon (optional)
Viper Urban Camo (optional)
How much does the 2022 Honda Navi cost?
As we've already mentioned that the cost of 2022 Honda Navi less than $2000. To make it more precise, Honda announced that it would have an MSRP of $1,807, including the $200 destination cost. This is a small amount in exchange for a brand new bike that will easily get through town with no gear or clutch to mess around with.
If you're eager to buy the 2022 Honda Navi, you'll have to wait until after Christmas, as the Navi is scheduled to be available for sale in January 2022.
Conclusion
The 2022 Honda Navi is a fun, quick, easy fun, easy to use, and adorable miniature MOTO. It's suitable for beginners or returning riders of all ages. Honda's MSRP of $1,807 in the American market is too good to be overlooked.
If you're looking to save money or want to save your bike money to invest in modifying your bike, the 2022 Grom begins at $3,399. The 2022 Ruckus is priced at $2,799, which means that the Navi is close to $1,000 cheaper.
There's also a case to be made in support of the use of a carburetor-powered bike in 2021 if you're looking to be able to wrench (or be taught to do it) on your bike.
Since more and more modern bikes require computerized dealer systems to identify issues, this relatively simple mechanical design isn't far from the norm it was in the past. If you're new to the bike world and want to learn more about the mechanics of your bike, this is the place for you.