The Redigo is the Datsun's new launch which is a competitor among the entry-level hatchbacks namely Renault Kwid, S-Presso an Maruti Suzuki Alto. With this facelift, Nissan has made many new changes to both exterior and interior aspects. It is mechanically the same but has some improvements in its features. Read our review to know in what ways the Datsun Redi-Go facelift is better.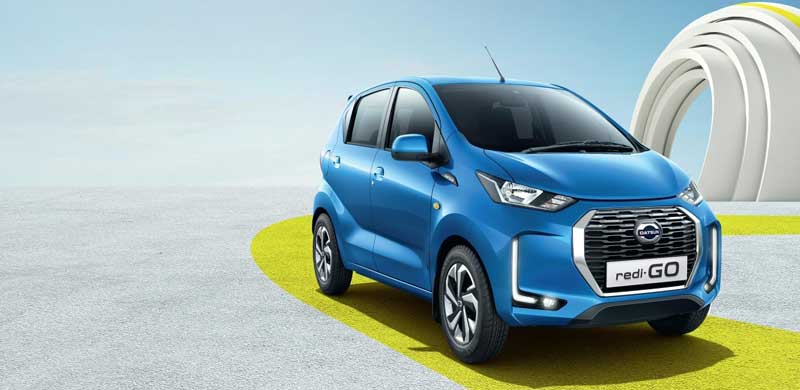 Review For Datsun Redi Go 2021: Exterior Design and Style
The front part of the new Datsun Redi-Go has a lot of changes. It has the typical look of the Datsun family. The large, chrome-bracketed grille extending down to the bumpers, the L-shaped DRLs and small fog lamps are the important attractions. A distinct light signature like Magnite also catches your attention but as there are no sheet metal changes, it is not so effectively visualized as on the Magnite.
There are clear-cut lines on the body which are odd looking. The new 14-inch steel wheels with a dual-tone wheel cover give a lively look. The new LED highlight for the taillamps is the main change at the rear.
2021 Datsun Redi-Go Interior, Space, Features
The interior of the pre-facelift Redi-Go was not satisfactory because of its notable cost-cutting measures. Hence, there are many rectifying measures taken while designing this new update. So an ultra-modern dash has been introduced in this new face lift version. The Redi-Go gets to the top position because of its horizontal theme, rectangular vents and centre console. The brushed effect plastic and gloss black inserts around the centre stack, the cloth inserts on the door pads along with the new seat fabric have given a superior look to the newcomer. The plastics could have been avoided which are not so suitable for this car with many new features!
There is no exposed sheet metal in the door cards and there is plastic cladding around C-pillar panels. There are some storage spaces on the centre console and a new slot on top of the glovebox but these cannot hold things with safety. The door cards can hold wallets and phones. Boots space is not so sufficient. The rear-seat passengers have full-sized bottle holders and you can fold down the rear seatback to free up space for luggage.
Space at the rear seat can hold two passengers with comfort on most journeys. The ingress and egress are easy due to the high 187mm ground clearance. There is a basic flat cushioning for the rear seats and a long squab that gives good amount of under-thigh support. However, taller adults have less legroom. The tall roof and large glasshouse create a ventilated space but children may feel somewhat caged because of the rising windows and as the rear windows could not be rolled down fully. The lack of a substantial headrest is a missing comfort factor.
An 8-inch touch screen is a positive aspect with Android Auto and Apple Carplay. There is also a rear-view camera. Passenger airbag and the mirror adjustments are internal. The instrument cluster has been revived with an easily readable speedo and a digital tachometer with a trip computer.
2021 Datsun Redi-Go Engine, Gearbox and Driving
The seats are such that you sit at a higher level making it easy even for shorter drivers without any availability of height adjustment. The 1.0 L 3-cylinder engine with 68PS and 91 Nm is not the best in the industry with respect to refinement and responsiveness, but it is easy to use as it has a low-end grunt and alert throttle pedal. Highway speed maintenance is a challenge with high gears tuned for efficiency than performance and absence of turbocharged mid-range torque. City drives are not affected by this but long travels are a bit difficult as the shifter can hamper progress.
The Redi-Go has a tall and narrow shape which can easily go through the traffic filled city roads but there is a bit of hefty steering feel. The soft suspension are not so capable of saving you from bumps. This car does not give confidence to handle the highway speeds because the shape and high ground clearance allow the crosswinds to affect your speed. The steering response is slow. The redi-Go's brakes are the best in the segment but there is a progressive feel from the pedal and hence you can experience some panic stops.
2021 Datsun Redi-Go Verdict
The Datsun Redi-Go has become a complete product with this update. The linear motor, a striking face and more competitive features are the advantages that make the Datsun Redi-Go a rival to the Maruti Alto and Renault Kwid. It costs less than its rivals. The absence of power windows, insufficient high-speed stability and very little service network are the drawbacks. The fashionable design, easily drivable quality and ground clearance are the positive aspects!
2021 Datsun Redi- Go Mileage And Performance
City fuel efficiency – 16.72 kmpl
Highway fuel efficiency – 20.92 kmpl
Overall – 17.77 kmpl
0 to 100 kmph – 15.1s
30-50 kmph(3rd) – 4.6s
50-70 kmph(4th) – 6.2s
60-80 kmph(5th) – 8.6s
100 – 0 kmph – 40.9m, 3.2s
Key Specifications
*Engine: 799c, 3-Cyl, Petrol/ 999cc, 3-Cyl, Petrol
*Power: 54 PS @ 5600 RPM / 68 PS @ 5550 RPM
*Torque: 71 Nm @ 4250 RPM | 91 Nm @ 4250 RPM
*Transmission: 5-Speed MT | 5-Speed MT / AMT
*Fuel Type: Petrol
*Tyre Size: 165/70/14 (Front & Rear)
*Brakes: Disc (front), Drum (rear)
*Safety: 2 airbags, ABS with EBD
Dimensions
Overall (L x W x H): 3435 x 1574 x 1546
Wheelbase: 2348 mm
Boot Space: 222-514-litres
Ground Clearance: 187 mm
Turning Radius: 4.7-metres
Fuel Tank Capacity: 28-litres
Datsun Redi Go Price
2.83 Lakhs – 4.77 Lakhs (Ex-Showroom)
3.22 Lakhs – 5.32 Lakhs (On Road)
Did you like this stylish car 2021 Datsun Redi- Go? Then, book it today and make it yours!
Are you an admirer of automobiles? Read Autogos reviews of all the latest cars and bikes to know all details!