The Chevy Tahoe is a family-friendly off-road vehicle. You may wonder: 'Is the Chevy Tahoe good for off-roading, primarily through mud and other surfaces?
This article will provide you with the advantages and disadvantages of this off-road vehicle. Besides, I have also done some tests to evaluate how well it performs in practice. Scroll down for more details on this exciting topic!
Is The Chevy Tahoe Good For Off-Roading?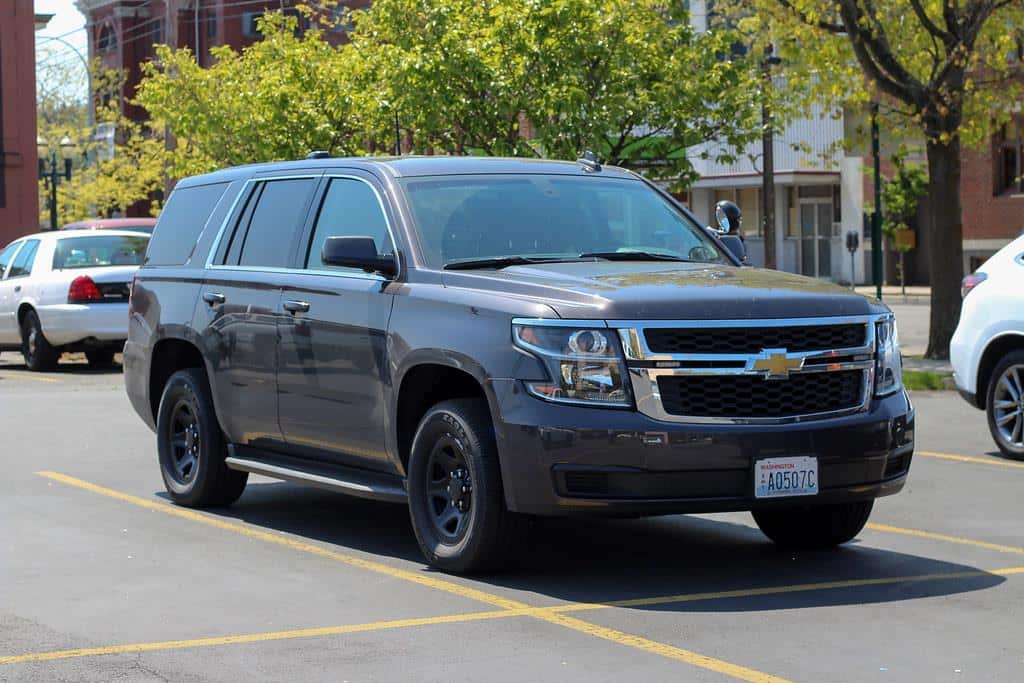 Image-Source: The Chevy Tahoe is available for off-road driving a long distance (Link)
The answer is yes. The Chevy Tahoe has a distinctive design similar to many off-road models currently on the market: bulky, heavy, and long overhang. 
The powerful engine and design features also allow it to handle the terrain well. In particular, if you equip it with specialized off-road tires, overcoming rough surfaces is no longer a difficult challenge.
Yet, the Chevy Tahoe didn't perform too well on some terrains. Due to its heavy weight, it will be impossible to climb rocks or perform similar techniques.
Z71 Chevy Tahoe Feature Highlight for Off-road 
Chevy Tahoe Z71 is a model with many advantages to support off-road driving. Here are some features that any off-road enthusiast will love in the Z71.
Accessories
The changes in the accessory system make the latest Tahoe model possess many attractive advantages.
I was particularly impressed with the navigation system. Its 10-inch touchscreen is large enough to support my observations. The screen is also compatible with many other smart devices, such as phones and tablets.
The manufacturer also adds many small details, such as the charging dock and the wireless charging port, to provide a better user experience for the driver.
Inferiors
The interior layout in the Tahoe Z71 is geared towards optimizing the user experience. Its front seats are pretty spacious and comfortable.
The manufacturer has intelligently arranged the power button and lever to simplify your control.
The middle row of seats is equally comfortable. Passengers have enough room to put on their feet and are always warm because the seat heating system works quite effectively.
The third row of off-road vehicles often has quite limited space. Yet, with the Tahoe, passengers who are 6 feet tall can still sit comfortably.
In addition to its spaciousness, its interior also impresses users with diverse connectivity ports, 120-volt sockets, and many other valuable extras.
Exterior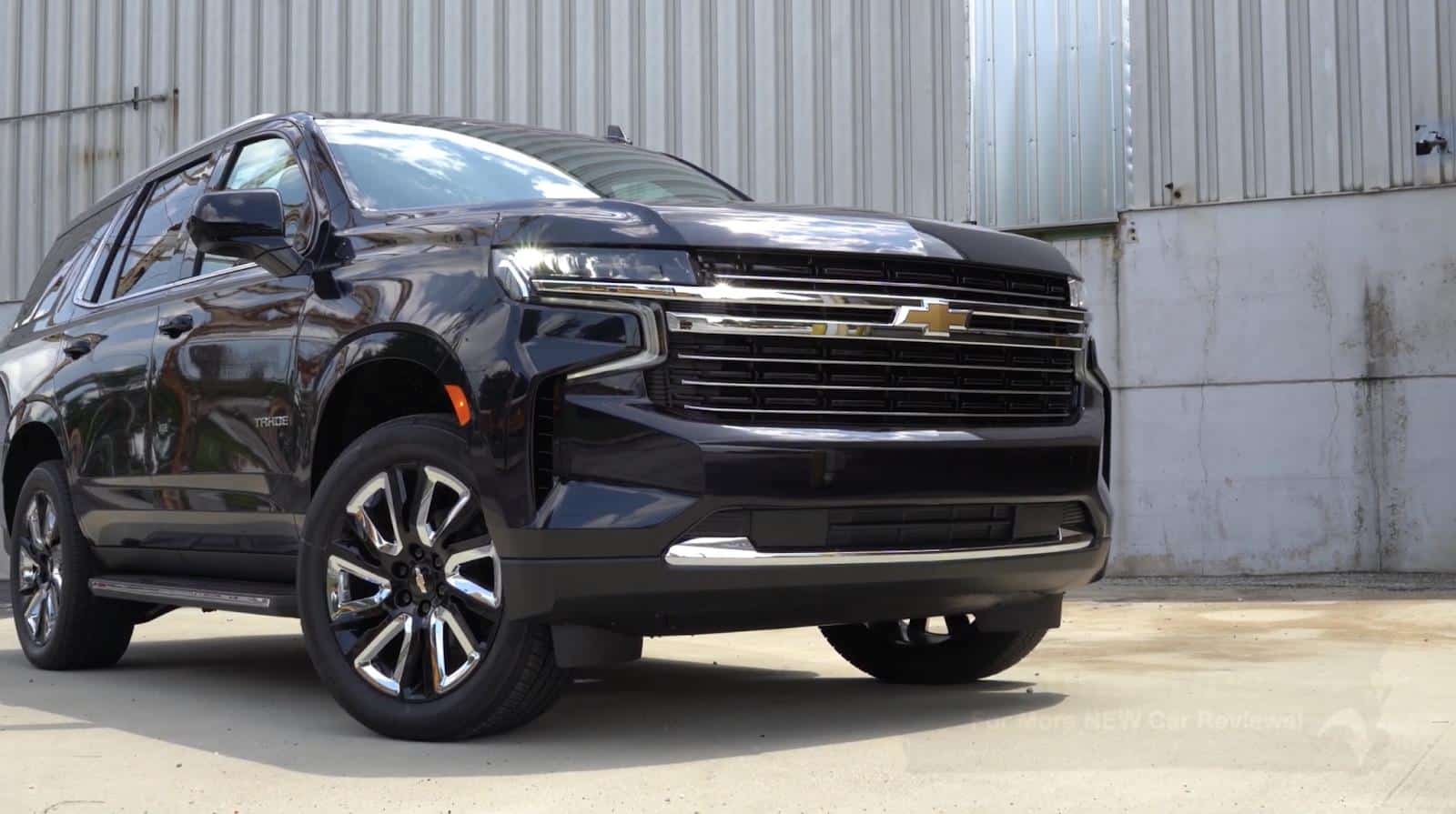 Image-Source: The solid and outstanding exterior of the Chevy Tahoe (Link)
Decorative details in the mesh, badges, and roof rails have made the Z71 stand out even compared to competitors in the same segment. Its exterior also ensures aesthetics by focusing on sliding panels and accents on the mirror.
In addition to the beautiful appearance, the exterior also plays a vital role in making the vehicle's off-road strength. Especially with 20-inch aluminum wheels shod and Goodyear Wrangler Trailrunner AT tires, the Z71's ability to handle harsh roads is more impressive than ever.
Design
In addition to enhancing off-road handling, Chevy also attempted to optimize the design for increased comfort.
This model has enough space to accommodate up to 8 passengers. Chevy also changed the design of the doors and driver's seat.
Another impressive advantage in the design of the Chevy Tahoe is the push-button gear lever. While not as familiar as a lever, this change offers more room for adjustment.
Driveability
Chevy Tahoe uses a 5.3-liter V-8 engine. It can accelerate from 0–60 mph.
When combined with soft brake pedals, and light steering, the Z71 becomes a reliable car for traveling in the city.
This model is also always ready to move on the highway. Its 10-speed automatic transmission works efficiently to meet every driver's needs well.
Independent suspension
Image-Source: Chevy Tahoe Z71 independent suspension in 2021 (Link)
Air and four-wheel independent suspension are good support features for off-road driving needs.
The air suspension system supports flexible height adjustment. Its lowest height is still enough for the driver to exit quickly. Meanwhile, with the maximum ground clearance, you can conquer harsh terrain.
The car's four-wheel independent suspension handles well overall. While this system affects ride performance, it's effective enough to stick to bumps.
Z71 Chevy Tahoe Disadvantages for Off-Road 
Despite possessing quite a few advantages to support off-road driving, the Z71 Chevy Tahoe is still not the ideal choice for conquering harsh terrain. The reason lies in some disadvantages from the vehicle's suspension and IRS.
Air suspension problem
When performing some bounce tests, Chevy Tahoe gave not-too-good results. This model also often encounters some problems, such as sagging rear corners.
In some cases, even though the air suspension warning light is on, the car stops for a long time, affecting your off-road driving experience.
IRS problem
You can not deny the overall handling advantage of the IRS. Yet, it inadvertently loses ride matching and performance in some cases.
It is also a drawback that makes Chevy Tahoe unable to maximize its power on harsh terrain.
Quick Rundown of Chevy Tahoe for Off-road
Chevy Tahoe is an off-road vehicle that works well on dirt and gravel roads. However, in addition to the advantages, there still exists some problems.
Here is a quick rundown of Chevy Tahoe for off-roading you should consider.
Pros
Large space.
User-friendly adjustment system.
Conquer the terrain of soil and gravel.
Lots of positive changes.
Cons
An automatic locking differential is not included
Can't get through some rough terrain
Bulky, heavy, and not suitable for rock climbing.
Other Chevy Tahoe Models to Consider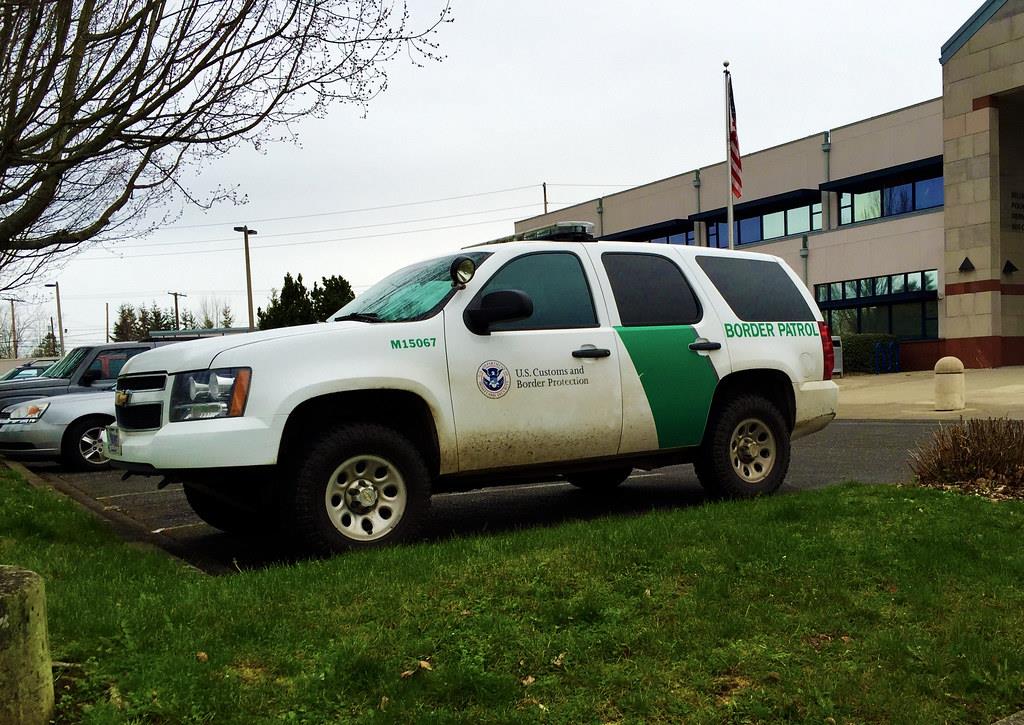 Image-Source: Tahoe 2010 is a good option for off-roading (link)
In addition to the Chevy Tahoe Z71, you also have commendable off-road models from the brand.
The Tahoe 2010 with the off-road package is one of them. The power window and its A/C system work efficiently without errors. The 2010 Tahoe is one of the most reliable and high-performing models.
Final Words
Is the Chevy Tahoe good for off-roading? The answer is yes if you equip the vehicle with specialized off-road tires to run off-road at a moderate level.
Hopefully, through the above sharing, you have better understand this model and make a reasonable decision for your needs and driving habits.