This Article will discuss the Best GPS Vehicle Trackers. The Vyncs Google Maps Vehicle Tracker has all the hallmarks of a good vehicle tracker, including unsafe driving alerts and geofencing.
You also get roadside assistance free of charge and a companion App to help you track your mileage. This is especially useful if you often travel for work.
Vyncs reminds you about maintenance such as wear and tear, battery charges, and recall notices. Alexa can answer your questions about fuel consumption in the morning. Vyncs will also give you tips on how to improve fuel economy.
Reviews the Best GPS Vehicle Trackers
1. Vyncs GPS Tracker: Best for long-term tracking

The Vyncs GPS monitors location, unsafe driving habits, Engine diagnostics, and battery Life. It also tracks fuel levels, recall notices, maintenance needs, and recall notices. It's also the most affordable GPS on our list and can save you money on your car insurance.
Vyncs will evaluate your driving and give you a Tip Performance Index (TPI) score. This score can help you to save money on car insurance.
VyncsMiles is a companion App that can be used with Amazon Alexa. It can track mileage and categorize it according to personal and business uses.
2. MOTOsafety GPS Tracker:  best for new drivers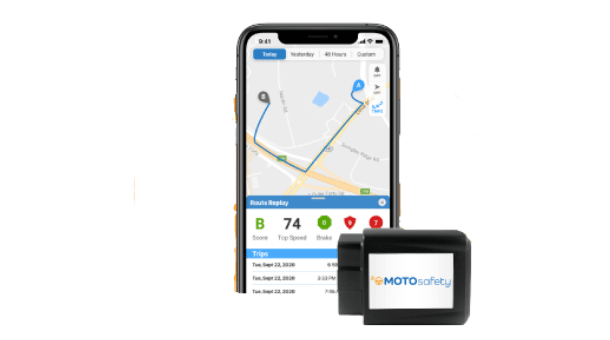 The easy-to-install and affordable Motosafety GPS Tracker won our top spot as a new driver for teens. It features a driving education course, Google Maps route replay, and geofencing. A GPS tracker such as this will make it easier for teens to follow their curfew, whether they are out with friends or in outside activities.
3. Bouncie:  best for vehicle maintenance
Although it is a new GPS tracker, Bounce has all the great features of the other popular trackers, such as intelligent assistant compatibility. We expect it to rise to the top. Bounce connects to your car's OBD port. It offers standard geofencing and real-time alerts regarding speed, hard braking, acceleration, and other parameters. You can also monitor gas levels and vehicle maintenance.
4. SpyTec STI GL300 GPS Tracker: Best portable tracker
The two-inch SpyTec STI GL300 GPS Tracker can be easily slipped into a pocket or attached directly to your car's undercarriage.
The tracking device runs on a battery, and you will need to recharge it frequently. Although the Manufacturer claims it will last for two weeks, it can last between eight and ten days.
Monitoring costs $25 per month. You'll receive location updates every 60 seconds unless you want faster tracking. SpyTec does not have cancellation fees or contracts. We also like the 30-day no-hassle policy.
5. Optimus 2.0 GPS Tracker
The Optimus2.0 GPS Tracker has a similar design to the SpyTec. The Optimus 2.0 GPS Tracker is a smaller, battery-operated device that tracks vehicles. The Optimus is more reliable and costs $20 per month.
The location tracking felt more like a connect the dots experience than a fluid turn-by-turn. It all depends on what type of monthly plan you have. It could be smoothened by upgrading to updates every five seconds. Optimus is not a SpyTec website-only tracker. It uses both an App and a Website.
Things to consider before you buy a car GPS tracker :
No matter your reason for purchasing a car GPS tracking system, it is important to ensure you are within your legal rights. Most places will allow you to use the device on only your vehicles. Talking to your loved ones first is the best way to track someone you care about.
You can make your car safer using other devices such as dashcams or rearview (backup camera) cameras. These devices will improve your view and provide valuable records of your time on the roads.
How we reviewed the Best GPS Vehicle Trackers
To find the best GPS vehicle trackers, we looked at top-rated trackers to determine which ones performed consistently. We researched to find out what other users thought about each device. To learn more about our complete methodology, see the.
FAQ about the top 5 Best GPS Vehicle Trackers
Will my GPS tracker still work in rural areas?
You may experience poor GPS coverage if you live in an area with limited cell phone Service.
This does not mean that the GPS isn't working. It just means it can't get the location information from your phone because there aren't enough cellular towers to transmit the signal.
Can real-time GPS trackers pinpoint your exact location?
Sometimes. By sending and receiving satellite signals, GPS trackers triangulate their position. Your GPS tracker may experience interference, just like your cell phone. This can affect the accuracy of your location.
Which car GPS tracker is best?
#1 Overall: Bouncie Connected GPS Tracker. #2 Best Tracking: LandAirSea 54 Gps Tracker. #3: Vyncs Vehicle GPS Tracker is a Premium Pick. #4: Track 2020 Model Mini Real-Time GPS Tracker.
Where is the best place to put a tracking device on a car?
OBDII Port is the best location to install a GPS tracker instrument inside a car. Its location means it will last for years without needing to be charged. Because the OBDII port receives power directly from the vehicle.
Do all GPS trackers require a monthly fee?
Most GPS trackers require a monthly subscription. Some people find it too expensive to pay these fees. They should consider purchasing the best GPS trackers that don't have a monthly fee. Consumers can use GPS services with no additional charges by buying the best vehicle tracking device without a monthly fee.